At Superhuman, we're committed to bringing you superior e-bikes and skateboards that help you unlock your superpowers and experience life without limits.
what kind of hero are you?
MEET THE BABYMAKER II
OUR BEST SELLING URBAN EXPLORER...
With over 13 Million dollars raised on Indiegogo, to say this bike is a hit is an understatement. Our new model packs more punch with even sleeker styling.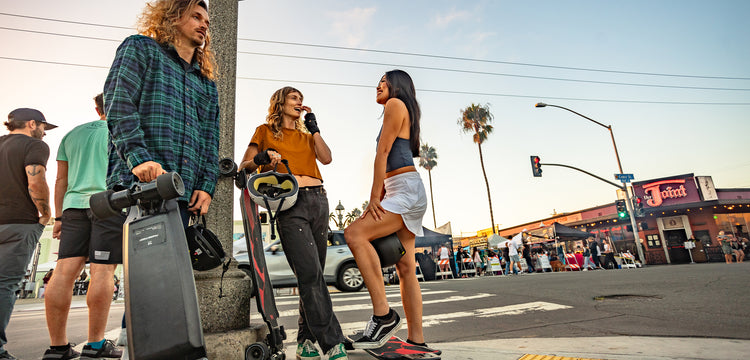 MILES BOARD
MEET YOUR NEW SPIRIT ANIMAL.
Designed from the ground up with the best specs per price point, The Panther is our flagship four wheeled fun machine. Go farther, faster now.
We believe there's only one way to experience life... FULL ON. Join our community across socials and get inspired to live your best life as a full fledged super hero.
Fun bikes!
Great store. Fun bikes. Great customer service!
Amazing Bikes!
They're all amazing bikes! Very nicely made and well built! I love the electric colors that they have for them as well. I could definitely see myself taking these out on the weekends or just riding around my neighborhood to a local trail. I will definitely be getting one of these bikes soon! I think the electric orange one is my favorite!

Couldn't be happier!
I couldn't be happier with my FLX e-bike, and I highly recommend their products to anyone in the market for a top-notch electric bike. This company truly delivers on quality and service, making the investment well worth it!
So fun to ride!
These guys are awesome!!! The FLX bikes are so fun to ride!!! The bikes are also really high quality!!! The e-mountain bikes are so fast and the battery is super strong. Makes going up hill a really good time!
Just bought a bike!
I recently purchased a Superhuman Bike, and I couldn't be happier. These bikes are simply phenomenal! The build quality is top-notch, and the performance is exceptional. Riding a Superhuman Bike feels like a superpower – smooth, fast, and incredibly fun. The design is sleek and stylish, turning heads wherever I go. Superhuman Bikes has truly elevated my biking experience, and I highly recommend them to anyone looking for a premium, high-performance bike. It's worth every penny 🦾⚡️!
Love it so much
"Short dress in a printed viscose weave with a round neckline, opening with a button at the back of the Seams with small frill trims at the waist and on the sleeves and skirt. Unlined."