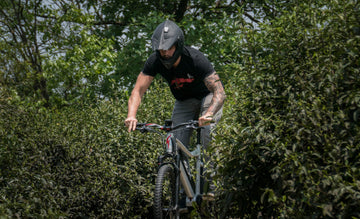 WARNING: It's NOT a toy. Misuse of this bike could prove fatal.
Why? Because it's packed with a 48 Volt 1000 Watt motor and FAST. So fast it's escaped its cage and is out wreaking havoc on the streets. All that's left in its wake is a pile of burning rubble, toppled buildings, and shirtless women.
We've been testing this monster on the mountains, the streets, the office, the roof… and it's a beauty.  First, here's a preview of the wild beast:
The Blade's 1000 watt motor and race spec components blur the lines between motorcycle and e-bike.
Is it an ebike? A motorcycle?