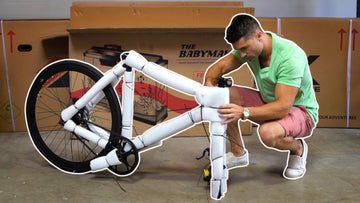 Join us for the assembly of the very first Babymaker PRO!
We walk you through the step-by-step process of assembling your Babymaker... 
(Don't freak out when you see the surprise that came in our box 🤣)
Subscribe to the FLX YouTube Channel if you think Rob should stick to Bikes and ditch the comedy routine!
In Other News:
Babymaker production continues at a rapid pace. The first units are on track to begin shipping in September.
For our European friends, a large container of components has been sent to Spain for our Spain-based assembly factory. Stay tuned for updates. 
There have been some questions about the Blue raspberry color from the latest production video. There is some discrepancy between images on different screens, the painted bike and video footage. We'll take all your feedback into consideration moving forward!
Meanwhile in San Diego, 
We've been hard at work building the team and infrastructure to support the explosive growth that the Babymaker campaign has brought on.
We've brought on a new COO who is helping in the massive effort to streamline the support channels, speed up response times and make sure you get the best product and support in the industry.
With his help we've also hired a new supply chain manager, and are planning 2 more critical hires in the coming days. 
Babymaker T-Shirts have taken a backseat to Babymaker production and support efforts but we will get them out as soon as possible. 
We have received a few reports of support responses from hello@flx.bike not being received by riders. We're working on migrating to a more robust mail server and helpdesk to improve deliverability and service quality. 
Stay tuned for the next exciting update...
We Love You,
Rob, Pete and Team FLX