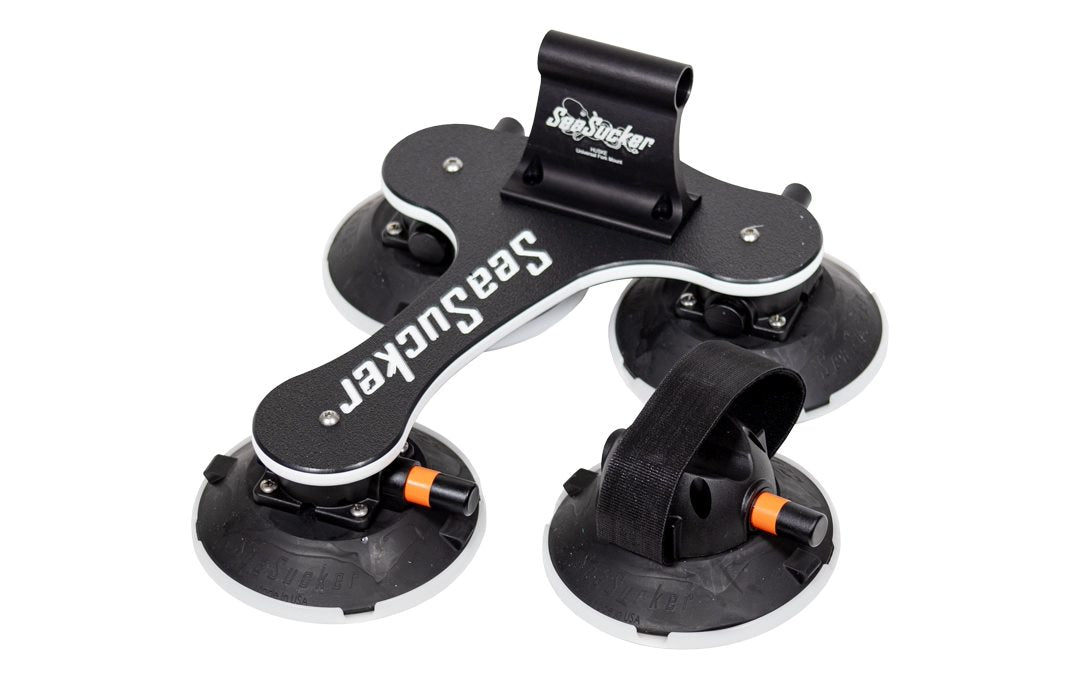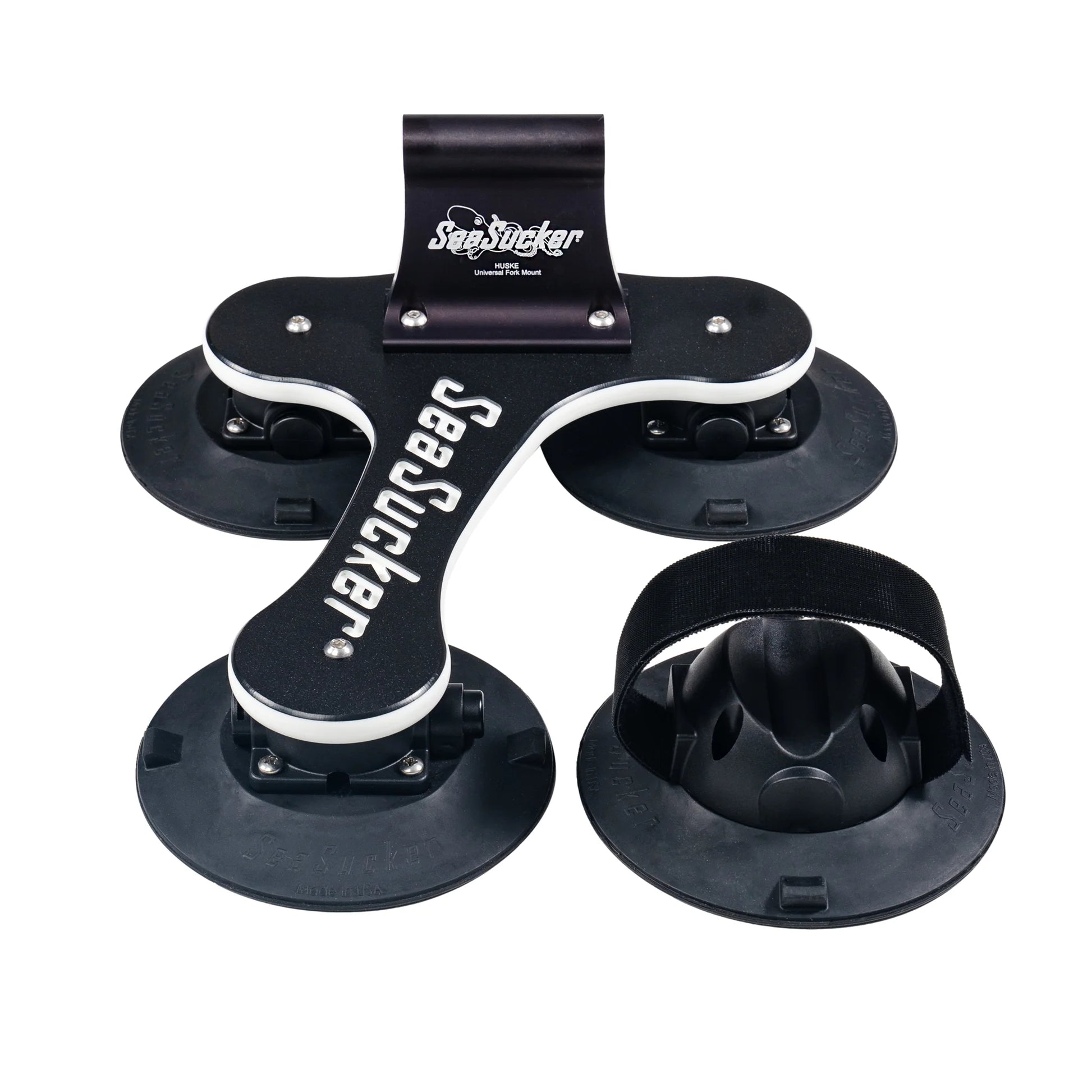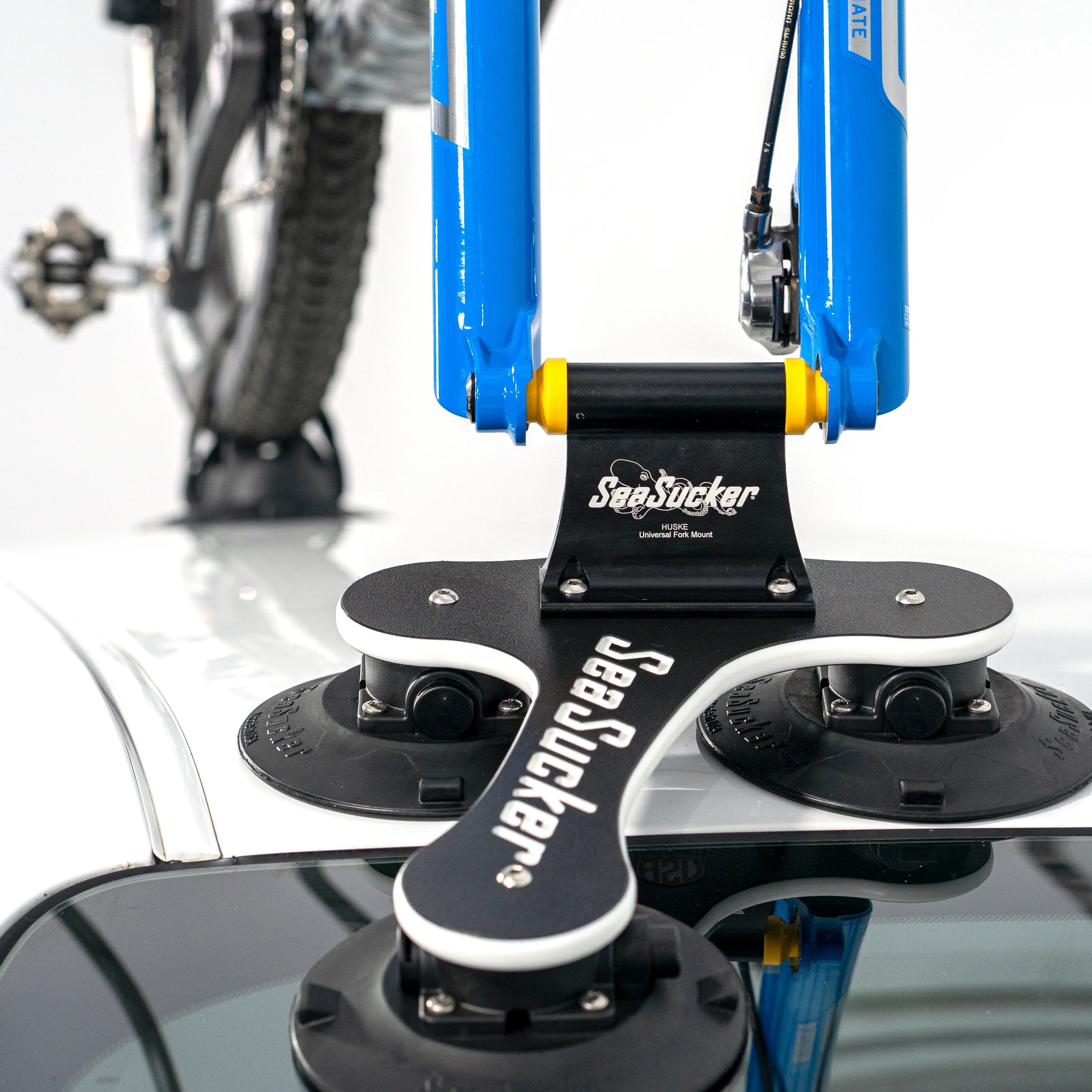 Bike Mount/Rack - SeaSucker Talon 1 Bike Mount / Rack
Shipping from FLX Headquarters 2/15!!
Includes:

Talon 1-Bike Rack with (3) powerful 210 lb pull-strength rated vacuum mounts hold it solidly on your car's roof, trunk, or back glass.
HUSKE Universal Fork Mount. 
Huske Thru-Axle Plugs snap directly into the Huske base and are sold separately.  The Babymaker II, Step Through and F5 takes 15X100 MM plugs.
Rear Wheel Strap with 22 inches of velcro (can accommodate most fat bike tires) for securing the back tires.
Spare SeaSucker pump.
Crank Arm Straps (prevents pedals from contacting roof).
5g Lube Tube for vacuum pump maintenance.
***Minimal Assembly Required.
Specs:

Holds 1 bicycle – up to 45 lbs each.
Made for roof top, trunk or hatchback attachment.
Attaches to metal, glass or fiberglass surfaces.
1/2" thick high-density polyethylene (HDPE) body for strength and durability.
Approx. 15" x 13" footprint. Stands 3" tall without fork mount attached. 6.75" with fork mount.
Approx. 6 lbs.
The Skinny:
What types of bikes can I use with this rack?
If you can remove your front wheel and your bike's fork is made for one of the following sizes, you can use the rack: 9x100mm Quick Release; 12x100mm Thru-Axle; 15x100mm Thru-Axle, 15x110mm Thru-Axle, 20x100mm Thru-Axle, or 20x110mm Thru-Axle. These six sizes handle 99% of what's out there, including road, cross, and gravel bikes, cruisers, and mountain and BMX bikes. Fat bike riders can use SeaSucker racks too, but you'll need the proper Fork Up fork mount adapter to fit your bike.
Sale price
$299
Regular price