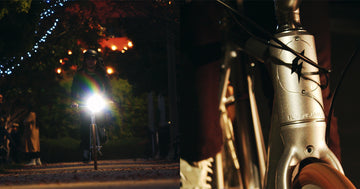 It's about 7:30pm and you're at home, the whole house filled with the smell of a perfect red sauce pulled straight out of your nonna's cookbook. It's been simmering for hours now, concentrating its flavors, with the garlic, onions, and basil perfuming the air with a sophisticated savory scent that would make any neighbor jealous just by taking a whiff. 
All that's left to do to make the night perfect is to pop open a bottle of wine and boil some noodles. You find a bottle of Cabernet Sauvignon and head to your pantry to grab a box of pasta… only to find that… THERE'S NO PASTA LEFT!! NOOO! What a sad sad way to bring down a mood!
But not to worry! You just remembered you got a brand new Babymaker II and The nearest grocery store is only a few miles away! If you leave now you can get there just in time before they close, which of course is no problem for the Babymaker II!
But how safe is riding at night? There could be robbers, unseen potholes, and you can get run over by a car!  Well if you follow these Night Safety tips we can assure that you will be SAFE while on your night-time pasta run! 
Tip no.1: Wear a helmet! According to experts about 2/3rds of deaths and 1/3rd of injuries involved in a bike accident involve the head and face. Wearing a helmet can reduce the risk of injuries to the head by 85% 
Tip no.2: Know your route. Find a route with good lighting, and the least amount of road obstacles.  Knowing your route is one of the best ways to prevent injury and running into crime! 
Tip no.3: Light up your ride! Not only will a light set up on your bike allow you to see what's in front of you but it will also alert pedestrians, drivers, and other bike riders of your presence!
Tip no.4: Wear bright clothing or better yet reflective clothing! Dark clothing acts as camouflage to darker surroundings at night or in the early morning. Not being seen on the road is one of the most dangerous things you can do as a cyclist! So brighten your swag up to be seen in the dark!
Tip no.5: Have your phone on you! Best thing to do before you go on a bike ride is to make sure your phone is charged! Just in case you need to alert the authorities in an emergency or check gps to see if you are heading in the right direction.