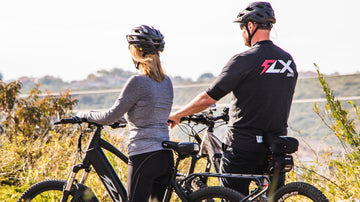 Mark and Susie are a retired couple living in San Diego, California.

They've always enjoyed spending time together in the outdoors but often felt limited when hiking or even when riding standard bikes.

That all changed the day they took home 2 FLX bikes. While they were still able to ride and enjoy the exercise, they were no longer limited by their physical capabilities.

Hills that would normally leave them gasping for air at the summit became just a little speed bump when riding with pedal assist. This made their rides not only more enjoyable,it enabled them to explore much further than ever before.

After owning the FLX Bikes, the amount of time that they spend riding together has increased drastically and as a result, brought them closer together as a couple.
Mark and Susie found the perfect fit for them. What's holding you back? Click to see the perfect model for you.
DISCLAIMER:
Mark and Susie's experience riding Ebikes has been life-changing but we understand they aren't for everybody.  

If you answer YES to these bullet points, then an Ebike IS NOT FOR YOU.
I dislike adventure and the outdoors.
I hate exploring my area further.
I enjoy spending lots of money on gas.
I would hate to have enough power to ride up the steepest hills.
I don't enjoy any exercise, even if it's fun.
I like to avoid spending time with my friends and loved ones.
In all seriousness, we're here to serve you.  Give us a call at  844-548-3359 if you have any questions and we'll get you sorted out!

We Love You,
Team FLX