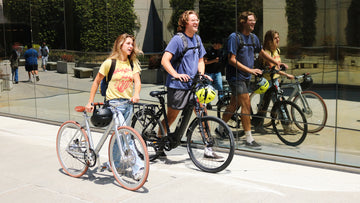 Summer was a BLAST!
We hope you all got your fill of Summer sun and made memories to last a lifetime!
It's about that time of year where we ditch the sunscreen and head to the super store to stock up on school supplies to last the whole semester. We know all the hustle of a semester; whether it's zipping to the library for a study session, meeting with your classmates at a local cafe to discuss the next group presentation, or sprinting straight to class from your dorm after pulling an all night study session. The last thing you want to have happen is for you to hustle to class only to have your professor nag you for being late! WHAT A DRAG!
Well thankfully ebikes exist. They're perfect for commuting to and from your dorm, across campus, and they even serve as a great investment! With an ebike you can avoid paying for gas, yearly parking permits, daily parking passes, and/or parking tickets! Bike racks are always plentiful and free on any campus! Click this link here 
flx.bike/collections/all-ebikes
to grab an FLX ebike so you can always arrive on time, and have a little extra cash in your instant ramen fund!
Worried about keepin' your noggin safe on the way? Click the link to check out our collection of
helmets
! Our selection of Bern helmets and more will give you the protection you need!
Need a new lock? We have you covered there too!
CLICK!